Countries of Origin
Varieties
Scotch Regions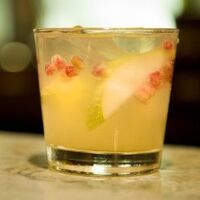 This is a refreshing and strong whiskey punch, perfect for warm Spring and Summer nights. The ginger liquor and Rittenhouse Rye Whiskey give the drink a nice kick. Mix up a batch of this punch for your next BBQ or get-together.
"I should never have switched from Scotch to Martinis."
— Humphrey Bogart

Loading RSS data...
Hi all found this interesting but brief wiki from one of wikia's footer adverts. I used to collect miniatures of whiskeys from a early age and then moved up to full size bottles, a few of which have been emptied ;) One hoiliday i decided to have a l…
See more >
In 1994, the 20th Century Fox logo is redone in CGI for the first time. This logo was created by Studio Productions (now Flip Your Lid Animation) which also did the logos for Paramount and Universal. In 1994, after a few failed attempts (which even included trying to film the familiar monument as an actual three-dimensional model), Fox in-house television producer Kevin Burns was hired to produce a new logo for the company — this time using the new process of computer-generated imagery (CGI). With the help of graphics producer Steve Soffer and his company Studio Productions (which had recently given face-lifts to the Paramount and Universal logos), Burns directed that the new logo contain more detail and animation, so that the longer (21 second) Fox fanfare with the "CinemaScope extension" could be used as the underscore. This required a virtual Los Angeles Cityscape to be designed around the monument. In the background can be seen the Hollywood sign, which would give the monument an actual location (approximating Fox's actual address in Century City). One final touch was the addition of store-front signs—each one bearing the name of Fox executives who were at the studio at the time. One of the signs reads, "Murdoch's Department Store"; another says "Chernin's" and a third reads: "Burns Tri-City Alarm" (an homage to Burns' late father who owned a burglar and fire alarm company in Upstate New York). The 1994 CGI logo was also the first time that Twentieth Century Fox was recognized as "A News Corporation Company" in the logo. In 1997 David Newman re-recorded the 20th Century Fox Fanfare. As of 2009, this logo appears only on the company's website.