Jack Daniel's



Type

Distillery

Lynchburg, Tennessee

Region

Proof

45% alc/vol

Process
"Live Freely. Drink Responsibly."
Jack Daniel's Tennessee Whiskey
[1]
Jack Daniel's
Edit
The best-selling american whiskey brand in the world, Jack Daniel's is a brand of sour mash Tennessee whiskey named after its founder, Jasper Newton Daniel. Jack Daniel's is a manufacture of Brown-Forman Corporation since 1956.
It is known for its multiple prizes and the legendary Old No. 7, made since 1876. It is produced in Lynchburg, Tennessee by the Jack Daniel Distillery.
Jack Daniel's county is a dry county, despite the major location of the distillery, so the product is not available for consumption at stores or restaurants within the county, although the distillery does sell commemorative bottles of whiskey.
The "Jacks"
Edit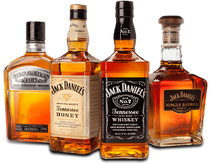 "Jack Daniel never got married. But he raised quite a family."
Jack Daniel's Tennessee Whiskey comes in four major varieties:
Plus three minor ones:
And the upcoming:
Cocktails
Edit
See Cocktails.
References
Edit
Community content is available under
CC-BY-SA
unless otherwise noted.