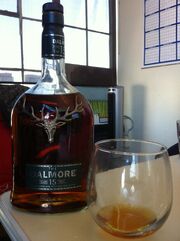 Dalmore is a Scottish distillery that produces highland malt scotch whisky. Dalmore uses water from its local waterway, the River Alness. The distillery was established in 1839. Dalmore's logo is a 12-pointed stag, which serves as the royally appointed coat of arms for the MacKenzie family, former owners of the distillery. The distillery is operated by Whyte & Mackay.
Dalmore's single highland malt scotch whiskey is made available at a range of different ages during its maturing process, with the most mature being 50 years....
Flavor Profile
[
]
Dalmore shows characteristically like other single malt highland scotches. It is smooth and distinct, with strong caramel flavors.